Stephen H. Savage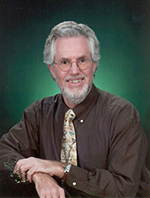 Stephen H. Savage
Senior Fellow, CAI
---
Dr. Stephen H. Savage has worked in archaeology for more than 30 years, including fieldwork in Jordan, Israel, Egypt, the U.S. Southeast, Southwest, and Ireland. His B.A. is in Ancient Near Eastern Studies/Theology, which he earned from Cincinnati Bible Seminary in 1978. 
His initial fieldwork was as an archaeological volunteer for two summers with the Smithsonian Institution's expedition to Tell Jemmeh, Israel. Upon graduation, he moved to the Atlanta area and became involved in Cultural Research Management fieldwork in every southeastern state except Florida. He became interested in the possibilities of applying the new personal computer hardware to archaeological problems, and obtained a certificate in Computer Programming and Operations from Control Data Institute, and followed that with several years of work as a programmer and systems analyst for a number of Atlanta-based firms. But archaeology drew him back to graduate school, and he earned his M.A. in Public Archaeology/Anthropology from the University of South Carolina in 1989. 
He followed that with a Ph.D. in Anthropology, with a concentration in the archaeology of the Near East, writing his dissertation on Descent, Power, and Competition in Predynastic Egypt. Shortly thereafter, he began working at Tell Madaba, Jordan, as well as two seasons at Khirbet Iskander and as the Director of the Moab Archaeological Resource Survey. He has taught at the University of Wisconsin-Milwaukee, Kutztown University, Eastern Mediterranean University, Mesa Community College, and Arizona State University.
Dr. Savage has worked for seven years as the IT Manager of the Archaeological Research Institute, and affiliated Professor at the School of Human Evolution & Social Change at Arizona State University. He has also directed the Geo-Archaeological Information Applications Lab, developing large-scale archaeological and GIS database applications for a variety of platforms, including the Digital Archaeological Atlas of the Holy Land, the Aegean Digital Archaeological Atlas, and the Mediterranean Archaeological Network. At the University of South Carolina he developed an innovative social landscape model for the Late Archaic period, using early GIS applications. For seven years he was the GIS network manager for the Arizona SHPO, and developed methods to easily access the AZSite cultural resources inventory. 
He has conducted training workshops in Jordan, Greece and Norway. Since 2000 he has directed the Moab Archaeological Resource Survey in Jordan. His research interests include early complex societies in the Near East and North Africa, the Levantine Bronze Age, Predynastic and Archaic Egypt, mortuary analysis, spatial analysis, GIS and remote sensing, database development and design. He has published in American Antiquity, the Journal of Archaeological Science, the Bulletin of the American Schools of Oriental Research, the Journal of Mediterranean Archaeology, Radiocarbon, the Journal of Archaeological Research, the Journal of Anthropological Archaeology and the Annual of the Department of Antiquities of Jordan. 
He has completed a NASA Space Archaeology grant for "Climate Change and Human Impact on Ancient and Modern Settlements: Identification and Condition Assessment of Archaeological Sites in the Northern Levant from LandSat, ASTER and CORONA Imagery." His current research involves an analysis of modern human impact on archaeological sites in Lebanon and Syria, based on comparative land-use classification from CORONA and Digital Globe satellite imagery.